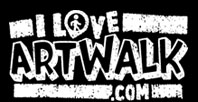 Thanks to everyone who came out in the chilly weather for the January Downtown Art Walk at Hemming Plaza! It's always nice to see familiar faces and new ones as well. If you haven't made it out to Art Walk yet, you should give it a try. There's so much to see and do! Great art, crafts, food and entertainment. Mark your calendar for Feb. 4, 2015 from 5:00 p.m. to 9:00 p.m. and come on out and enjoy the Jacksonville Downtown Art Walk!
Pappy is currently down south in Okeechobee, Florida painting a few kiddie rides.
The Square
is a collaboration between WJCT, the Cultural Council of Greater Jacksonville, and the local arts community. The community will vote for entries and WJCT will work with the top three artists to produce a video that will air on WJCT!
Additionally, the top artist will be a guest on WJCT's First Coast Connect radio program on 89.9FM!
Categories include art, music, theater, dance, and poetry.
Vote for Jim Lacey's entry
"Waiting for the Painter" at WJCT's The Square!
Click Here to Vote
Quarter 1 voting ends on Janary 31, 2015!
Jim has painted many types of carnival ride pieces over the years and carousel horses are a personal favorite. These horses are primed out white and waiting for the painter to bring them to life with bright and cheerful colors and all the fancy trappings and trim.